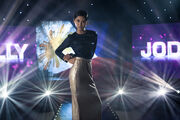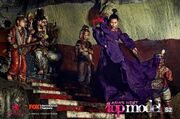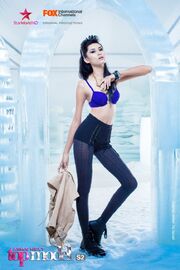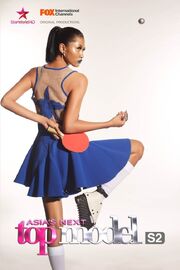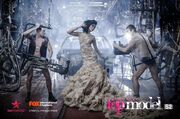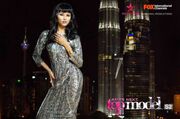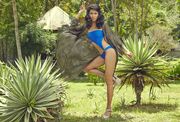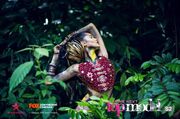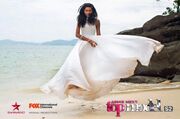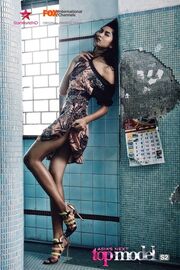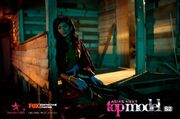 Jodilly Ignacio Pendre 
(born in the Philippines) is a Filipino fashion model. She is popularly known during her appearance at 
Asia's Next Top Model, Cycle 2
as part of the two Filipinas, the other one is
Katarina Rodriguez
who represent the Philippines in the competition.
Jodilly is a graduate from the University of Sto. Tomas.
She was already starting a career in modeling when she joined an in-campus beauty pageant, the 2011 search for Ideal Thomasian Personalities. She did not win the title, but, after the pageant, managed to land bigger modeling gigs, including a part in the Philippine Fashion Week.
Jodilly has also been featured in the pages of top fashion magazines, including a fashion editorial for Preview Magazine's August 2013 issue. She was also featured in the campaign for designer Rajo Laurel's Holiday 2012 Hanami shoe collection for major brand Parisian[1].
Asia's Next Top Model
Edit
Pendre was one of the 2 Filipinas who will represent the Philippines in the second cycle of Asia's Next Top Model, the other one is Katarina Rodriguez.
In Episode 1, Pendre was one of the favorable models. During her challenge, Jodilly was praised for walking gracefully. In the photo shoot, Pendre did well as well as her photo, which impressed the judges especially fellow Filipina, Joey Mead King, despite being praised, Pendre was called 4th that time. The following week, Pendre impressed again the judges by her wonderful photo, placing the runner-up that week.
She was 1st Runner Up overall, and was the contestant with the most fan votes.
Results
| Episode | Episode Title | Photo Shoot Theme | Rank |
| --- | --- | --- | --- |
| 1 | Who Walks The Walk? | Opening Stills | 4th |
| 2 | Who Attracts the Following | Malaysian Couture Goddesses in Cave | Runner-up |
| 3 | Who's Hot When She Is Cold | Winter Wonderland Scene in Stylish Lingerie | 9th |
| 4 | The Girl That Embraces Change | 60's Chic in a Hair Salon | 9th |
| 5 | The Girl That Runs Her Own Race | Embodying Futuristic Sports | Runner-up |
| 6 | The Girl Who Works The Room | Mechanic Couture Inspired in a Subaru Car Factory | Best Photo |
| 7 | The Girl Who is in the Spotlight | TRESemmé Ads Overlooking Kuala Lumpur Skyline | 5th |
| 8 | The Girl Who Makes a Splash | Pangkor Laut Resort Editorial | Bottom 2 |
| 9 | The Girl With The Wild Side | Native Jungle Warriors in the Borneo Jungle | Runner-up |
| 10 | The Island Girl | Alex Perry gowns in Gaya Island Beach | Best Photo |
| 11 | The Girl On Life's Journey | Posing with luggage for Malaysia Airlines | Runner-up |
| 12 | The Girl Who's Epic | Harper's Bazaar Editorial | Runner-up |
| Finale | The Girl Who Wins It All | Kampung Life during Nightfall | 1st Runner Up |
Controversy
Edit
•After the airing of the finale, Jodilly lost ultimately to Malay representative Sheena Liam despite having a stronger performance. This caused viewers to give mixed reactions about Jodilly's loss, as she was presumed to be the winner.
Jodilly finished as runner up of ASNTM2 with 2 Best Photos and 5 Runner Ups.
Her birthday is on 29th of April.
References
Edit